Social Life and Relationship
Create Quality of Life
A great deal of one's emotional fulfillment is due to the relationships one has with family, friends and co-workers. People with disabilities and people with other socio-economic challenges often have a disproportionate number of their close relationships with people who are paid to support them. While we acknowledge the importance of these relationships, we are committed to supporting clients to develop and maintain fulfilling, independent relationships that range from acquaintances to life partners. In addition we assist clients in maintaining strong relationships with family members wherever that is desirable and appropriate.
What do you value the most in your life? What gives your life the most meaning? Think about that for a moment before you read on.
Joe and his "Best Buddy" from IU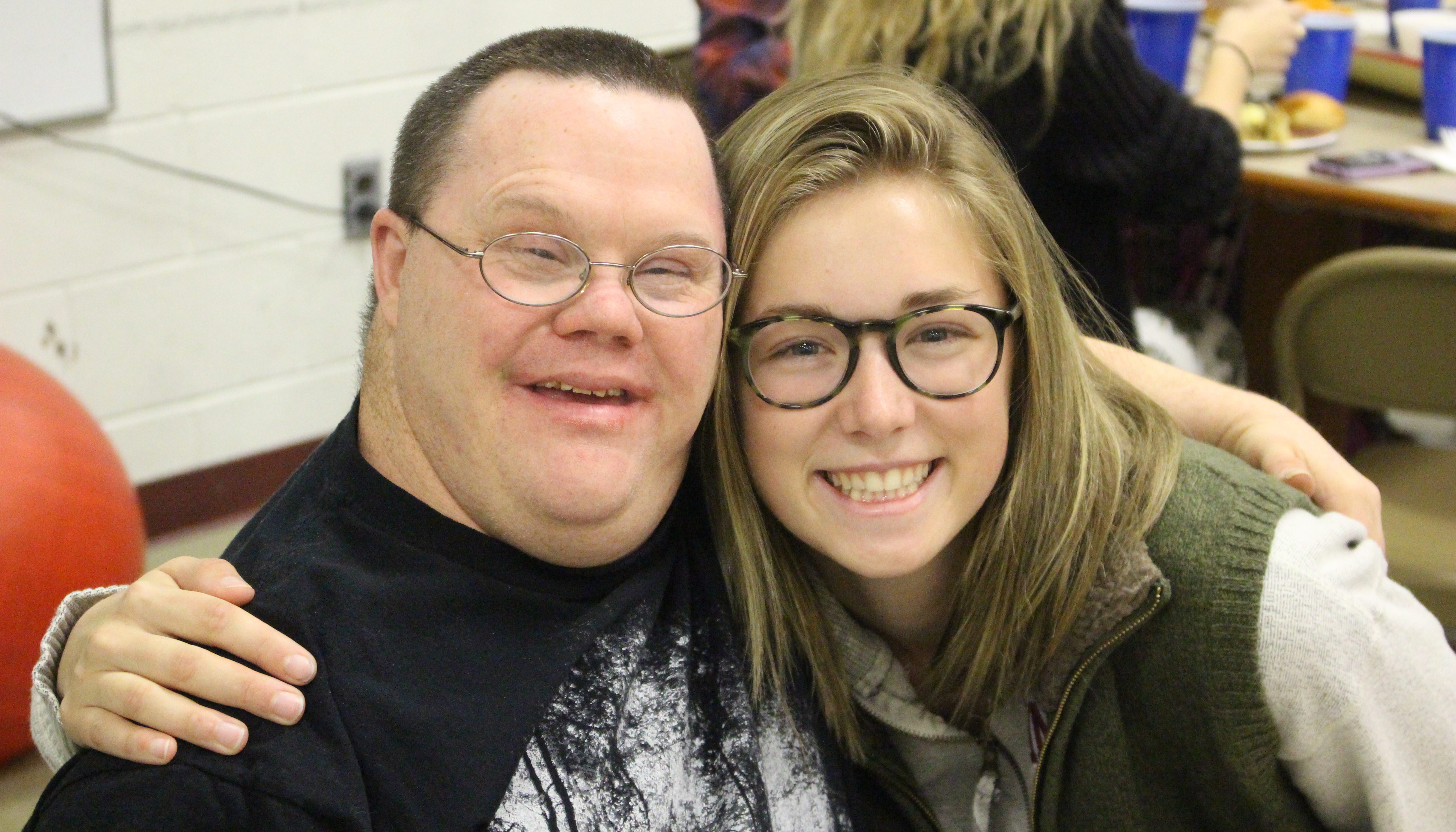 The Value of Relationships
If you are like most people, you are probably thinking about the people in your life – your family and your friends. It's the people we love and that love us back that make our lives the most meaningful, that give us things to look forward to doing, and that help us to create a place of belonging. Having people to share in your life and being able to share in theirs, in small and more significant ways, truly creates a higher quality of life. Therefore, Stone Belt's last Principle of Service is perhaps the most important in helping people have their best life. We maintain a strong focus on helping those we serve to have, make, and keep social relationships.
Melissa and Cheryl at IU Game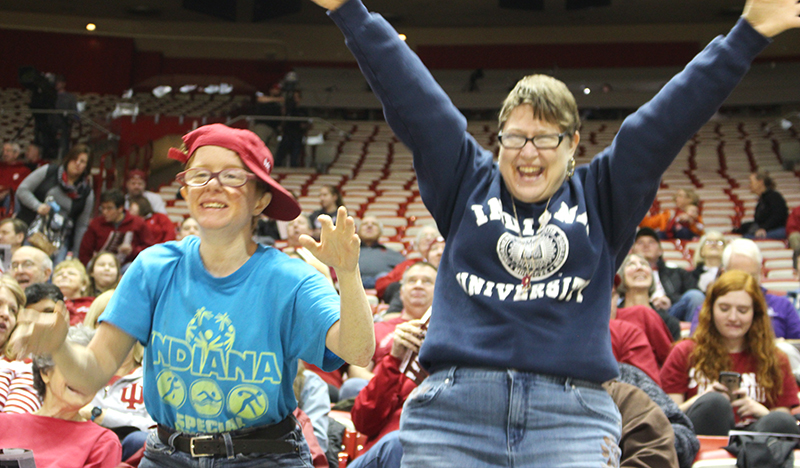 Studies show that loneliness is as unhealthy for a person as smoking. Unfortunately, it also has been documented that people with disabilities are more likely to suffer from loneliness and isolation than those who do not have disabilities. As professional services have developed in the last few decades, perhaps society has started to become over-reliant on paid caregivers to fulfill the social needs of individuals with disabilities. If you are a person that does not receive professional support services, imagine if many of those who are most important to you were paid to be with you. That would not provide the quality of life that you or most people would seek.

So it is important that Stone Belt has a strong focus on supporting people with disabilities to be included in all aspects of community life. With inclusion, they get to know others, which in turn creates even more opportunities in their lives, beyond what paid caregivers can or should provide. Participating in their family's activities, being a part of a faith community, taking part in social activities at work, and volunteering in the community are some of the ways this social enrichment occurs. In the best circumstances, these friends, neighbors, family members, co-workers and others introduce people with disabilities to many new activities and experiences.
Betsy and friend, Brittani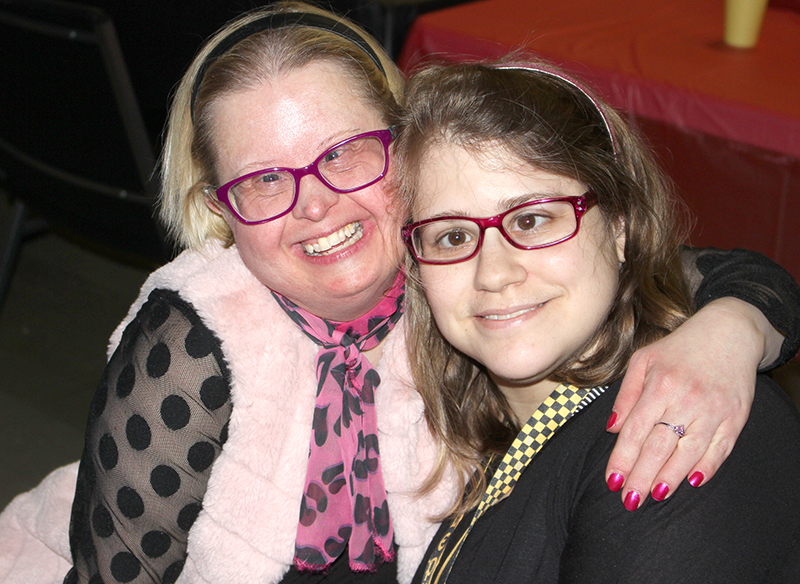 When you have friendships and networks with other people, you enjoy the value that those relationships create for you. This is the concept of social capital. This value might be a connection to a job, information on events, help to find a nice apartment and so forth.

Social capital is reciprocal and some people with disabilities, because of isolation, may have more to overcome to be an equal partner in this exchange of "social wealth." However, those who have been shut away in the past, have much to offer others. This is why Stone Belt's principle on the importance of contributing to the community through work, volunteerism, and friendship is so important. (see Chapter 6 for more information). Making contributions and creating social capital go hand in hand.

Betsy Higgins moved to Bloomington with her family in 1996 at age 23. She started working in Stone Belt's manufacturing program and by 1998 she also got a job at TIS Bookstore. She still works at both locations.

Betsy soon moved into Southern House, one of Stone Belt's group homes. The manager of the home helped Betsy join the choir at Sherwood Oaks Christian Church, where she could make many friendships. One of her important friendships is with Peggy Welch, a Sherwood Oaks congregation member who was an Indiana Representative at that time. This became more meaningful when Betsy got involved with the Monroe County Self-Advocates. This group of peers with disabilities is involved in legislative advocacy by informing policymakers of important issues for people with disabilities. Betsy had an "in" at the State House and she would seek out Peggy Welch during her visits there.
Peggy Welch and Betsy Higgins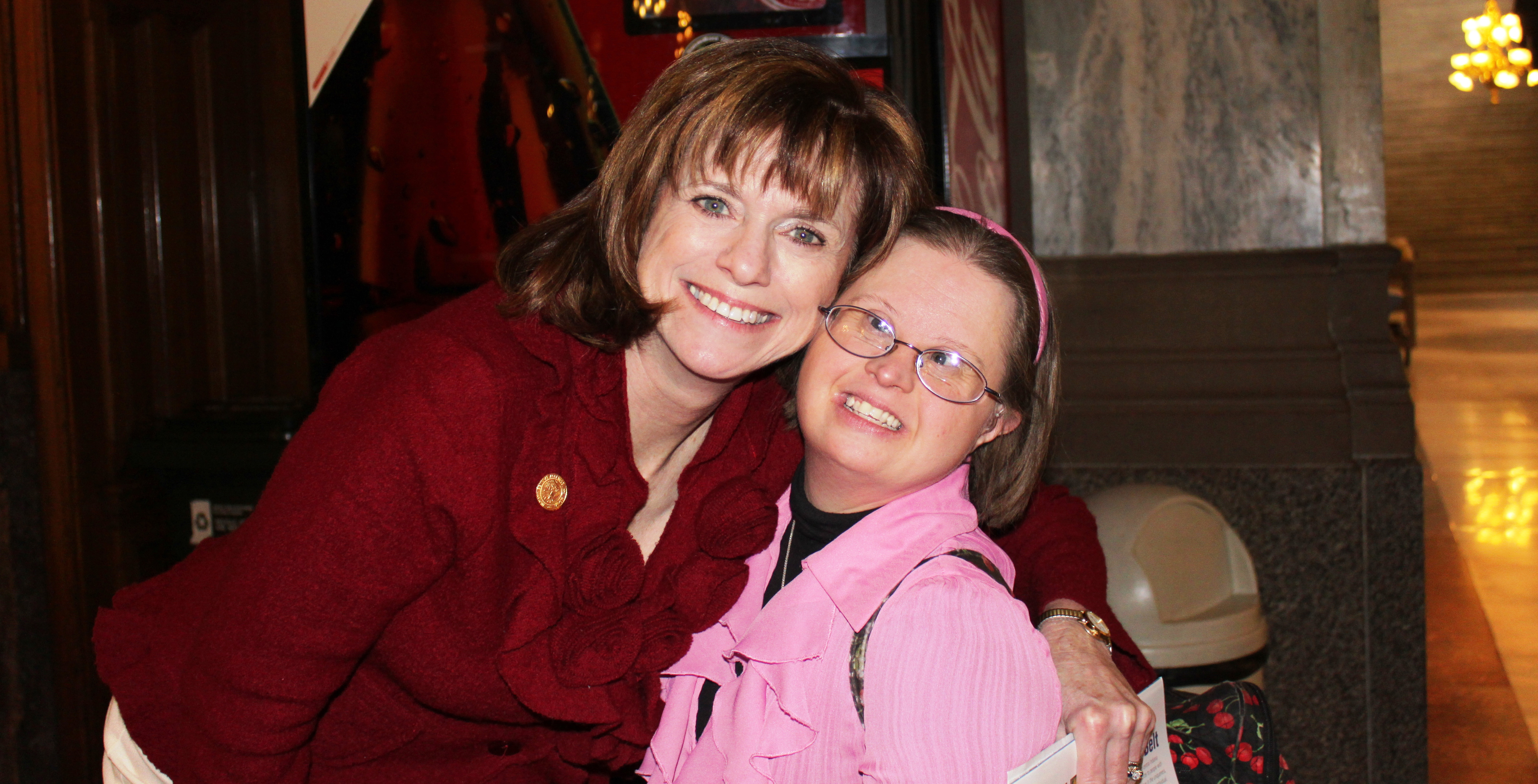 Betsy also expanded her social network and contributions as a self-advocate by serving as a client representative on the Stone Belt Board of Directors for nine years and as a member of The Arc of Indiana board.

In all of these activities, Betsy has created a lot of social capital. She has people who offer supports to her and she contributes and benefits her employer and the betterment of her peers with disabilities.

For example, Betsy is quite well known at her TIS job. She greets IU students who recognize her from their previous visits. She cooperates with the co-workers on shared tasks. She has the same supervisor with whom she started her career at the bookstore. Outside of her family, this is perhaps her longest relationship.

In 2016, Betsy moved into the Supported Living Program that enables her to share a home with two other friends. They have good social connections through their families, jobs and lifestyles, so the social capital for Betsy increased even further as she entered their social networks.

Kermit and Cathy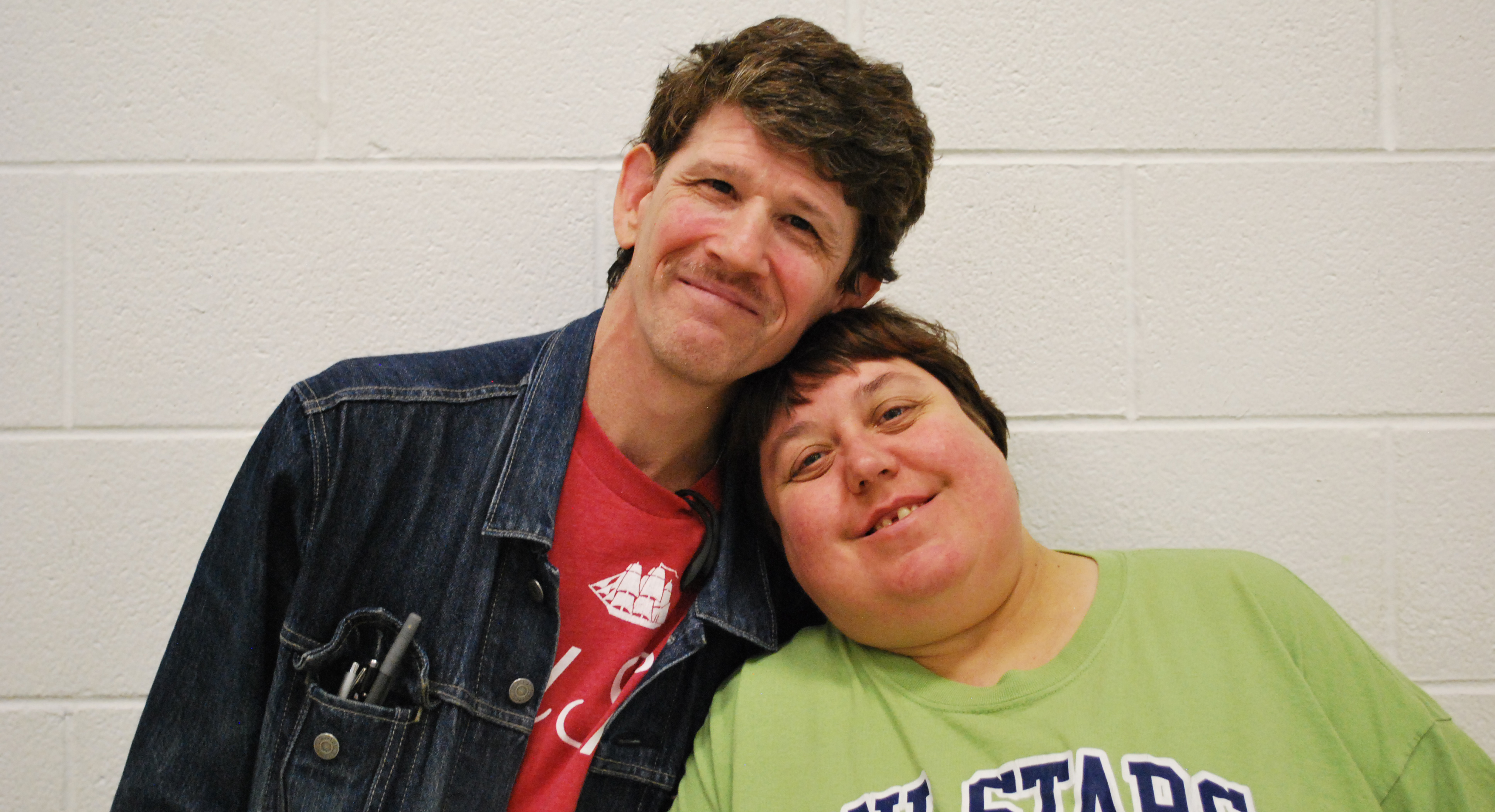 Intimate relationships between people with disabilities have often been prohibited, or at least discouraged. Yet in everyday life, marriage or a committed intimate relationship between two people that love each other is perhaps the most fulfilling relationship a person can have.

Negotiating the complexities of these relationships is more challenging for a person with a disability. They need information on healthy relationships and the ability to give informed consent. Additionally, when the person receives continual supervision, opportunities for privacy must be arranged. Even with all these considerations and more, Stone Belt believes that supporting people who desire and can consent to a loving relationship is essential to improving their quality of life.

Cathy Banks and Kermit Johnson met at Larc, Stone Belt of Lawrence County. They fell in love and wanted to be married. At that time Kermit was living in one of Stone Belt's group home, so their time together was limited to when he could visit Cathy at her apartment. They wanted more. They wanted to be married.

Their Stone Belt support teams encouraged them to go through premarital counseling so they could understand the commitment they were making to each other. After this, they moved forward. On Valentine's Day in 2015, at the Red Brick, a Victorian-styled home, which is now a community facility in Bedford, Indiana, Kermit and Cathy made their vows to each other. Kermit had worked and saved for the day, buying Cathy's wedding dress and paying for most the other costs. Stone Belt staff helped in making the arrangements, paying attention to details so Cathy and Kermit could have their dream wedding. The dress, the flowers, the food, and the rings were all just perfect.

More than three years later, Cathy and Kermit continue to enjoy their life together. They go about the routines of life — grocery shopping, cooking, laundry, etc. They enjoy eating out and visiting with others in their apartment building.

They have had the normal ups and downs that any couple might have. Kermit likes "man" thing such as tools and stuff to tinker with, this makes storage and space a big issue that they both work on. Cathy is a neat housekeeper and likes things in their right places. So with Kermit's things coming into the house and Cathy being more used to having her own space, they both have given up things to make the other person feel at home and happy. They continue to work on the balance of compromising with each other and advocating for themselves to keep a healthy relationship. They report they have learned a lot about relationships and each other.

A trailblazing spiritual support program for individuals with disabilities was formed at Stone Belt in 2017.

Sarah McKenney, who holds a master's degree in divinity from Columbia Theological Seminary, collaborated with Milestones Director Jim Wiltz to create a program for individuals in Stone Belt's residential programs who want to explore their faith needs and connect to a faith community.

The program's main goal is to offer individuals a personalized spiritual support plan — it may be minimal, discussing needs and offering support to maintain current faith choices, or it may offer an extensive exploration of faith and spirituality for perhaps the first time. It will also include provisions for involving clients in spiritual communities of all types.

Sarah works with people to reach out to faith communities and enlist them as participants in this program. The goal is to improve the quality of life for all involved and to help clients create more relationships beyond their current spheres.

A sponsorship effort will pair people with disabilities with volunteers from any chosen faith, in which volunteers may provide transportation to spiritual activities and offer companionship for services.

"That way, clients truly have a choice, just as they have the human right to choose where they worship," Sarah says. "This is to help make that accessible."

Sarah constructed this innovative program from the ground up, and she has been working on the idea for years. After repeatedly hearing stories from people with disabilities about the lack of spiritual support in their lives, she began working with Stone Belt to make a change.

"It's a great way to provide natural relationships with people in the community and community members being able to learn and grow and experience a new relationship," Sarah says.

The spiritual support program involves advocacy with clergy and congregations to provide education for how to make worship a more inclusive experience, including assistance with worship accommodations and nonverbal grief counseling.

Stone Belt's mission concludes with the phrase "to fully participate in the life of the community." When people have important social roles and are missed if they are absent; when someone has relationships with others that enjoy their company and vice versa; when people are connected to others that enjoy doing the same activities, then life is fuller and more meaningful. These outcomes are our aims with every person we support — that they fully achieve a sense of belonging with others. This, as the saying goes, is priceless.
SOURCES:
https://www.cbc.ca/news/health/loneliness-public-health-psychologist-1.4249637
http://blogs.redcross.org.uk/health/2017/07/disabled-people-loneliness-common/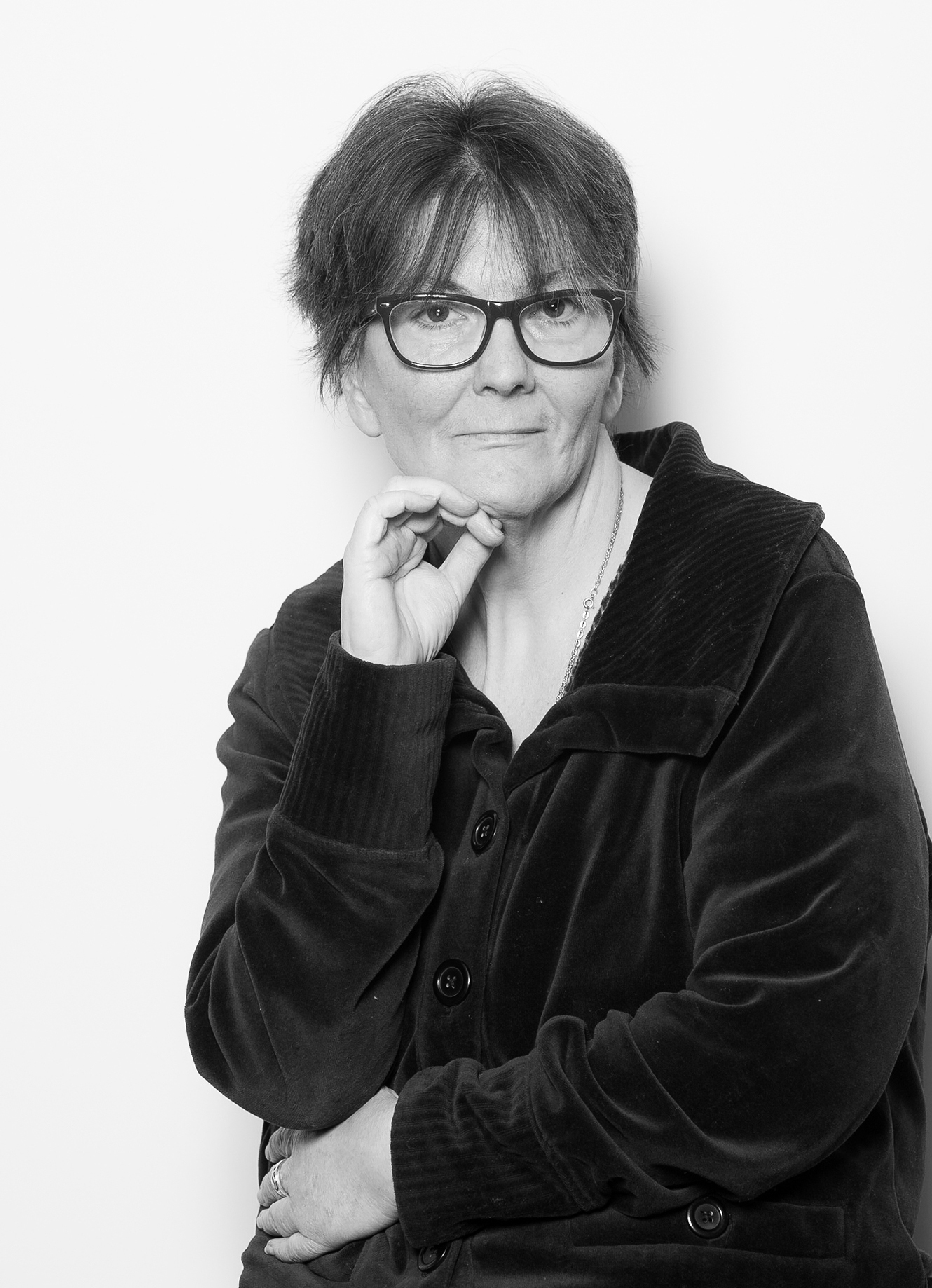 Marylin Chitwood:
Remembering Love
By LINDA MARGISON
from I Am You: Stories of Resilience, Courage, and Power

When recalling happy times in her life, 49-year-old Marylin Chitwood talks about the beach in Florida near property her parents owned. She remembers going to that beach and competing against her two sisters in a sandcastle-making contest. She says she never won.

Marylin smiles as she talks about a bunny romping in the yard. One day, the bunny let Marylin's mom approach and pet it.

When they were back home, Marylin says she fondly remembers sledding with her sisters in the hills and hollers of Brown County, Indiana, a place where she spent her whole life, growing up in Needmore, attending Brown County High School, and cheering on a squad at ballgames.

She was the baby of the family, which she says was good for her. "Mom always called me her beautiful angel, because I was born on Mother's Day," she says.

Marylin spent many of her days swimming.

"When I was younger, I liked swimming. I used to go off the high dive," Marylin says. "I went way up to the top on the deep end, and I decided when I did I wasn't going to look, because when I got up there, I realized it was too high." But instead of backing down, she jumped off the diving board head first.

Now, however, she can't put her head underwater because she gets bad ear infections. "I'm trying to get used to swimming without putting my head under the water, because I love to swim," she says, adding that she has tried using ear plugs, but the pain still returns. "I can't understand it."

As a child, her family lived near a small bait and tackle shop, and her parents owned a pontoon boat they took to a nearby lake for fishing. She still loves to kick back and spend her days fishing.

Growing up, she and her sisters didn't get along. "We do now," she says, adding about one sister, "She's just my rock. She's always there when I need her."

It wasn't always that way. She recalls how one day she got so mad at her sister that she raised a softball in her hand and readied it to lob at her sister.

"She said, 'Don't hit me with that ball,' and Mom walked in and said, 'Whoa! You two aren't fighting. Stop now!'"

Despite the normal bickering between siblings, Marylin says she really wasn't bullied growing up. "I'm glad, because there's a lot of people who blame themselves for certain things, and it's things you can't control," she says.

Family is important to Marylin, but also the source of great pain.

"My biggest struggle is losing people in my family. I've lost a lot of loved ones," Marylin says, adding that a bad marriage of 19 years—during which she endured years of verbal abuse—was especially difficult to overcome.

Marylin lost her dad in 2008 and her mom and aunt near the same time years later. A few months after that, she lost a second aunt.

"I miss all of them dearly, but I know they're not suffering anymore," she says about her mom and dad, who both had cancer. "It took me a long time to even be able to talk about it, but I know they're better off. At least Dad didn't lay around and suffer like Mom did."

Watching the process of her mom's debilitation took its toll. "The worst thing when Mom got sick was she always was so determined and she would drive herself places. It crushed her heart when my sister had to take her keys away from her."

Also around that time in her life, she left her abusive marriage.

"I finally just decided that I was going to have to control my life," she says. Although she tells her story with an air of strength, Marylin saddens when she thinks of what she had to leave behind. "It was really hard because I have a dog at home, but he takes good care of her and he lets me come and see her when I want to. Right now, that's all I can ask."

After the marriage ended, Marylin met a man who lived in the same apartment complex. They felt a connection, started dating, and eventually got married. "We were married three years and he died of lymphoma," she says. "He only lived 12 days from diagnosis. It was so quick. Sometimes I think I didn't do enough."

Her husband's death came as she was dealing with the loss of her parents and aunts.

With time, though, comes healing, and Marylin has found a relationship with someone who is 10 years younger, but has many of her same interests.

"I'm not used to having someone in my life who likes so much sports, but he loves to bowl, he loves to fish, he loves to swim, and I like all that stuff," she says, adding that this person, who has a kind heart and soft demeanor, came to her when she most needed that influence in her life.

Marylin recalls a time when she and her beau were attending a dance event and a young woman started to have a seizure. Her boyfriend ran over and placed his hand on the woman's forehead and prayed.

"It's amazing how somebody can bring that to your life right at the moment you need it," she says, her voice breaking.

In the midst of her grief and troubles, Marylin sought support from Stone Belt Arc in Bloomington, Indiana, which helped her learn coping skills, find a home, and start taking better care of her health.

"I've never regretted it, because I've learned so much from this place. I know when I'm down or when I'm stressed or something—at the time you don't really think about coping skills—I think, all I have to do is just relax and breathe, concentrate on taking a deep breath, and I'm OK," she says.

Marylin started eating better once she moved into a Stone Belt group home and has since reduced her diabetes medication and lost weight.

"I've been here a little over a year, and, at first, it was hard when you're used to being by yourself and then you move in with seven girls and two bathrooms," she says, chuckling.

Transitions are even more difficult when someone isn't sure she needs help.

"At the time in my life I needed it, and at times I didn't think I needed it, but my eyes are wide open now on dealing with different things," she says.

Marylin has always been independent and once had her driver's license, which makes it especially difficult for her to rely on others when she has medical and physical difficulties. But she is focusing on building positive relationships and just hanging out with her friends.

Through all the difficulties, though, Marylin attributes one thing to her success and survival:

"Faith."

******
Marylin Chitwood passed away on July 16, 2018.
Read more stories in I Am You: Stories of Resilience, Courage, and Power.