Moving Forward:
Where Are We Headed?
We have come to the completion of a two-year project to document the Stone Belt story through the 12 Chapters project. We do this we as enter 2019, our 60th anniversary.
We have documented highlights of our history against the backdrop of the disability rights movement. Stone Belt has been and will continue to be at the forefront of positive changes that promote empowerment and inclusion of people with disabilities.
We shared our Principles of Service including the validation of their importance and providing meaningful examples of those principles in action throughout our organization and the community.
We brought you the voices of our employees. These voices you heard are but a few of hundreds of dedicated individuals the make a difference in the lives of people we support every day.

And, finally, we have given you a chance to hear the voices of the people we support.
As we look to the future, we are confident that the hard-fought rights and acceptance of people with disabilities will persevere. We feel this way only because we believe so many of you will continue to believe in and expect these rights. With inclusion, many more people have an interest and belief that people with disabilities are entitled to full, rich lives in the community.
For sure, everyone's voice in this matter will always be important. Please continue to use yours when rights are threatened and when laws that strengthen these rights are being legislated.
The future of Stone Belt services will change and evolve in response to consumer demands and administrative design. We believe we will see further client directed services, with individuals and families having more control of their resources. As it was in our beginnings, we have anticipated that family supports for those that have loved ones still living at home will become a more predominant model of supports than full-scale residential services. For this reason, we have recently put a Family Supports program in place. We may see phasing out of some programs while new models emerge. Regardless of program design, we are confident that the person-centered planning approach will prevail and we will champion it. Our core believe in the right to self-determination will permeate all we do.
We hope you have enjoyed The 12 Chapters Project and that you have reviewed each chapter for the inspiration and values that it demonstrates. We take pride in bringing these stories to you. They provide the written documentation of the essence of Stone Belt and our reason for existence.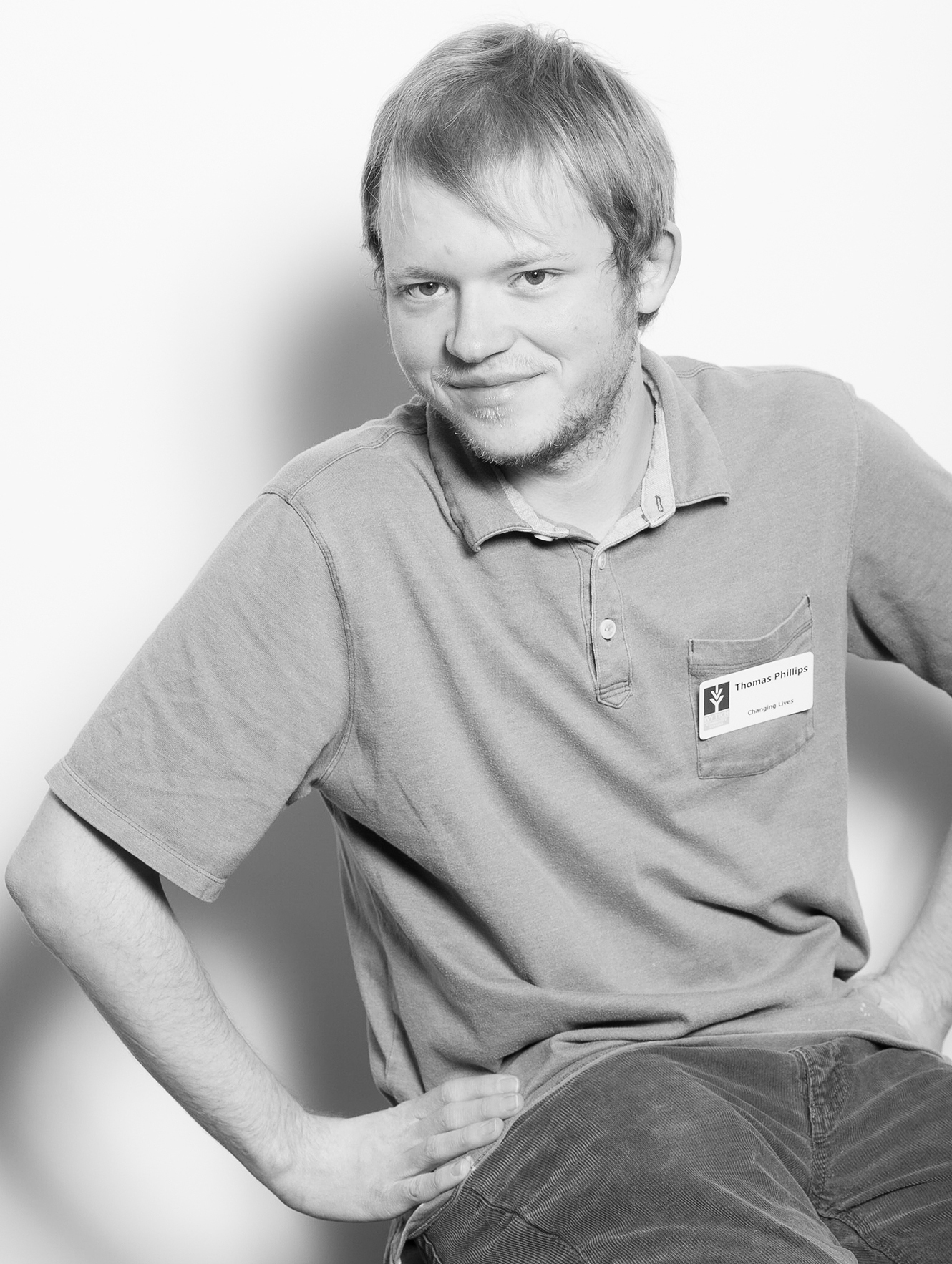 Thomas Phillips:
The Road to Independence
By LINDA MARGISON
from I Am You: Stories of Resilience, Courage, and Power

When 22-year-old Thomas Phillips looks back on his young life, he remembers a kindergarten teacher who sang songs. He joined her class not long after moving to Bloomington, Indiana, from Carbondale, Illinois, following his grandparents' deaths.

That experience fostered an interest in music and art that continued throughout his school years, from University and Binford elementary schools to Jackson Creek Middle School and Bloomington High School South.

Between the two subjects, Thomas has a difficult time deciding which he likes the most. "Music and art ... It's kinda hard to pick," he says. "I liked art class. I was able to go to some concerts and perform as well."

Thomas played the drums and mallets in middle school and performed in concert on the snare drum, mallets, triangle, chimes, and pan flute.

Thomas stayed active in school, joining a math club, swimming and diving teams, and percussion class, but he lacked fulfilling friendships. When asked if he had friends in elementary and high school, he says, "Not much," and then adds, "I did not."

But that has changed. Now, Thomas enjoys hanging out with his closest friend, playing video games, cooking hamburgers, and going to Buffalo Wild Wings. "Sometimes it's a nice day and it's summertime, so we cook outside," he says, adding that he and his friend have good times together. "It makes me feel great. We usually alternate and we usually take turns choosing the restaurant after basketball practice."

Thomas has been an active participant in Best Buddies since 2011. Best Buddies is an international nonprofit organization that creates one-to-one connections for people with intellectual and developmental disabilities. It was founded in 1989 by Anthony K. Shriver and has grown from one chapter to almost 1,700 middle school, high school, and college chapters worldwide. In Bloomington, Indiana, the Best Buddies chapter is operated by Indiana University students.

"I've had seven Best Buddies since I started," Thomas says. "We play bingo, games, sports, swim, and other stuff. It's hard to pick my favorite things we've done. I enjoy the program, because there are lots of activities to do and I like being Best Buddies with college people."

Besides spending time with his buddies, Thomas enjoys swimming, playing football with his friends, and listening to music. He also competes in flag football, soccer, and basketball at Special Olympics.

"When I saw someone kicking the ball, I knew that I wanted to do soccer, so I joined the team," he says. "I learned how to swim just by wearing goggles and watching people kick their feet underwater. When I was about to start middle school, I wanted to join the swimming team, so I did. Now I play in the Special Olympics."

If he has the opportunity, he especially likes to walk around and exercise, or join other people on car rides; and he's taken a couple of trips to Holiday World with his friends.

Thomas recently learned about a company through which he can plan and take vacations, giving him the tools he needs to meet another one of his goals—traveling.

In recent months, he has vacationed in St. Louis, where he rode the elevator to the top of the Arch and went on a riverboat ride; at Disney World, where he rode roller coasters, including his favorite, Space Mountain; and in Gatlinburg, Tennessee.

"We went up on a mountain. It looked like it was foggy, but we were just up high," he says of his Gatlinburg trip. "I got on a rock in the river for pictures, but I didn't get my toes wet because it was cold."

At the aquarium, he saw dolphins and got a snow globe as a souvenir. "It broke on the way back, but I can always go back and get something else," he explains.

Thomas's dream, though, is to get a car and learn to drive, so he can drive to places like White River and Nashville, Indiana. "I want to get a car to drive," he says. "That's my dream."

For the most part, Thomas says people are nice to him, but he once had a girlfriend who wasn't. "She was not a good girlfriend at all," Thomas recalls. "She was telling me who to talk to and who to not talk to, and telling me when to hang out with my friends and when to not hang out with my friends. I did not like that. She was controlling."

Despite having a quiet demeanor, Thomas is a man who likes to make his own decisions and knows what he wants to do. When he first started receiving support from Stone Belt Arc in Bloomington, Thomas had never been employed, but he was committed to getting a job. Without the knowledge that comes with experience, he had to completely learn how working translated into being paid and how being paid resulted from the employer giving money to the bank, which then reached him. But he was ready and eager for the challenge.

In January 2016, Thomas was accepted into Project SEARCH, Stone Belt's internship program for young adults. That program enabled Thomas to participate in job preparation classes and learn basic job skills, like applying and interviewing for a job, getting along with coworkers, showing up to work on time and when scheduled, and solving problems at work.

The program also gave him a chance to do internships at three different jobs: one in food service, one in shipping and receiving, and one in an administrative office.

Thomas was so successful in his clerical rotation that he was offered a job at Ivy Tech Community College when he completed Project SEARCH in July 2016. "It was great," he says of the program. "It helped me get a job at Ivy Tech."

In his clerical position at Ivy Tech, Thomas puts paper in the copy machine, keeps paper and supplies stocked, checks mail, folds papers, and monitors utensil stock. "Usually, I will make green keychains," he says. "Sometimes I'll laminate things, and sometimes I'll cut things off the plastic."

He enjoys his job, but admits sometimes he has to clean, and that isn't fun. "I might think about getting another job, but I'm not sure yet. I might just keep working at Ivy Tech, but I will at least see what the other options are."

Thomas is increasing his chances by taking college classes at Ivy Tech. He recently finished Career Success and Intermediate Algebra classes, and is now taking a general math class with algebra and geometry elements. "I'm taking it because I enjoy math and I want to improve that skill," he says.

In recent years, Thomas moved out of a group home and into a house that he and his housemates chose. Now, he's looking forward to someday moving into a shared home with his close friends.

"I'd like to live independently," he says. "I already know how to do dishes, cook, do laundry, vacuum, and I walk to and from Ivy Tech. I keep track on how much money I spend and stick to my budget as well. Living independently would make it easier to study."

The ability to be supported in all these choices in his life has transformed Thomas from a shy, nervous, and sometimes lonely young man into a confident, happy, and socially engaged man with even more goals and aspirations.
Why Does Stone Belt Need to Exist?
Clients and their families have benefited by the work that was begun by a few families in the late 1950s. Stone Belt's founders envisioned a better future for people with disabilities. Carolyn, Bob and are living examples of their vision. Today, Stone Belt supports thousands of individuals, helps them to positively impact the community in myriad ways and serves as a leader in the field.
The Formation of Stone Belt: '50s, '60s, '70s, and Early-'80s
When Carolyn Abbitt was sent home from school in 1956 because teachers didn't feel they could help her, her parents tried to make the best of it. That's what parents expected in that era. No requirements existed that allowed children with disabilities to receive special education. A spark of hope ignited when they learned Dr. Roscoe Smith and his wife, along with others, were working to create a school for their son, Bob, and other children with disabilities. The Abbitts joined and became leaders in the cause. Soon, they formed Stone Belt, and nine children had a place to learn and grow.
The Transformation of Stone Belt: '80s and '90s – The Move to Community Inclusion
Social activism of the 1960s and 1970s with subsequent changes in disability laws, such as The Rehabilitation Act of 1973 and The Education for All Children Act of 1974, created changes in services for people with disabilities. Children at the Stone Belt School began to move into regular schools by the early 1980s, a move that was welcomed by some and resisted by others. Nationally recognized advocates — Paul Wehman, John O'Brien, Lou Brown and others — were demonstrating new models of community inclusion like supported employment and integrative competitive employment for people with significant disabilities. The 1980s and 1990s were truly exciting times as the paradigms changed and community inclusion became the predominate model of supports. As times changed, Stone Belt evolved from a "center" for all services to a "spring board" for community living.
Self-Determination is Essential
Stone Belt believes the right to self-determination is essential for every person. Therefore, the foundation of Stone Belt services is to empower everyone we support to live the lives they want for themselves. As far back as the 1980s, the concept of person-centered planning (PCP) was developing. This approach empowers the person with disabilities to plan their life and build the supports around them to meet that plan. People who know the individual best provide customized supports that increase their self-determination and empowerment to live the life they want to live.
Learning Creates Empowerment
Obtaining information and skills gives a person more personal power. All of our services emphasize learning and skill acquisition in areas that are suitable to each person's interests, age and cultural background. We emphasize activities that provide for growth and opportunity and are purposeful to the creation of a fulfilling life.
All People Have Contributions to Make
Each person has unique capacities, gifts and talents. It is the aim of our services to further develop these assets in each person served and employed. We strive to provide opportunities for self-advancement as well as to enhance each person's capacities to contribute to the greater good of the community.
Positive Supports Create the Best Long-Term Results
One of Stone Belt Principles of Service is that "Positive Supports provide the best long-term results." But what does that mean, and why do we think it is important? Let's take a closer look. For some perspective, here is the full text of our guiding principle of Positive Supports: "When people exhibit behaviors that are challenging, they should have access to supports that are individually designed, are positive, help them learn new skills and responsibilities, provide alternatives to challenging behaviors, offer opportunities for choice and social integration, and allow for environmental modifications. Stone Belt policies and staff training are aimed at these positive outcomes."
Home-Life Must Be Self-Directed
People should be empowered to live in accessible and affordable community housing of their own choosing. Stone Belt provides flexible services that follow people to their chosen homes, including supported-living arrangements, group homes or family homes. Supports provided by Stone Belt within those settings are arranged around the individuals' needs and desires.
Employment is a Fundamental Part of Adult Life
Employment is a fundamental part of adult life. It is a huge part of our identity and how we see ourselves. When you meet someone new, the first thing they ask is, "What's your name?" The second is typically, "What do you do?" People with disabilities have such high unemployment rates and such low rates of participation in the workforce, that often they aren't able to answer the second question. Getting a job changes how they view themselves and how they are viewed by others. They are seen as capable and contributing. This is life changing. At Stone Belt, we believe everyone is capable of working at some level in the community. Everyone has gifts and talents that can benefit an employer, even if it is a restructured job with more limited tasks and hours. With this philosophy and core belief in mind, we offer several programs to help people prepare for and find community employment.
Social Life and Relationship Create Quality of Life
A great deal of one's emotional fulfillment is due to the relationships one has with family, friends and co-workers. People with disabilities and people with other socio-economic challenges often have a disproportionate number of their close relationships with people who are paid to support them. While we acknowledge the importance of these relationships, we are committed to supporting clients to develop and maintain fulfilling, independent relationships that range from acquaintances to life partners. In addition we assist clients in maintaining strong relationships with family members wherever that is desirable and appropriate.
The Employees' View: From DSP to CEO
Stone Belt has more than 550 employee positions that in some way support people with developmental disabilities. Chapter 11 includes a few of their stories.