The Formation of Stone Belt:
'50s, '60s, '70s, and Early-'80s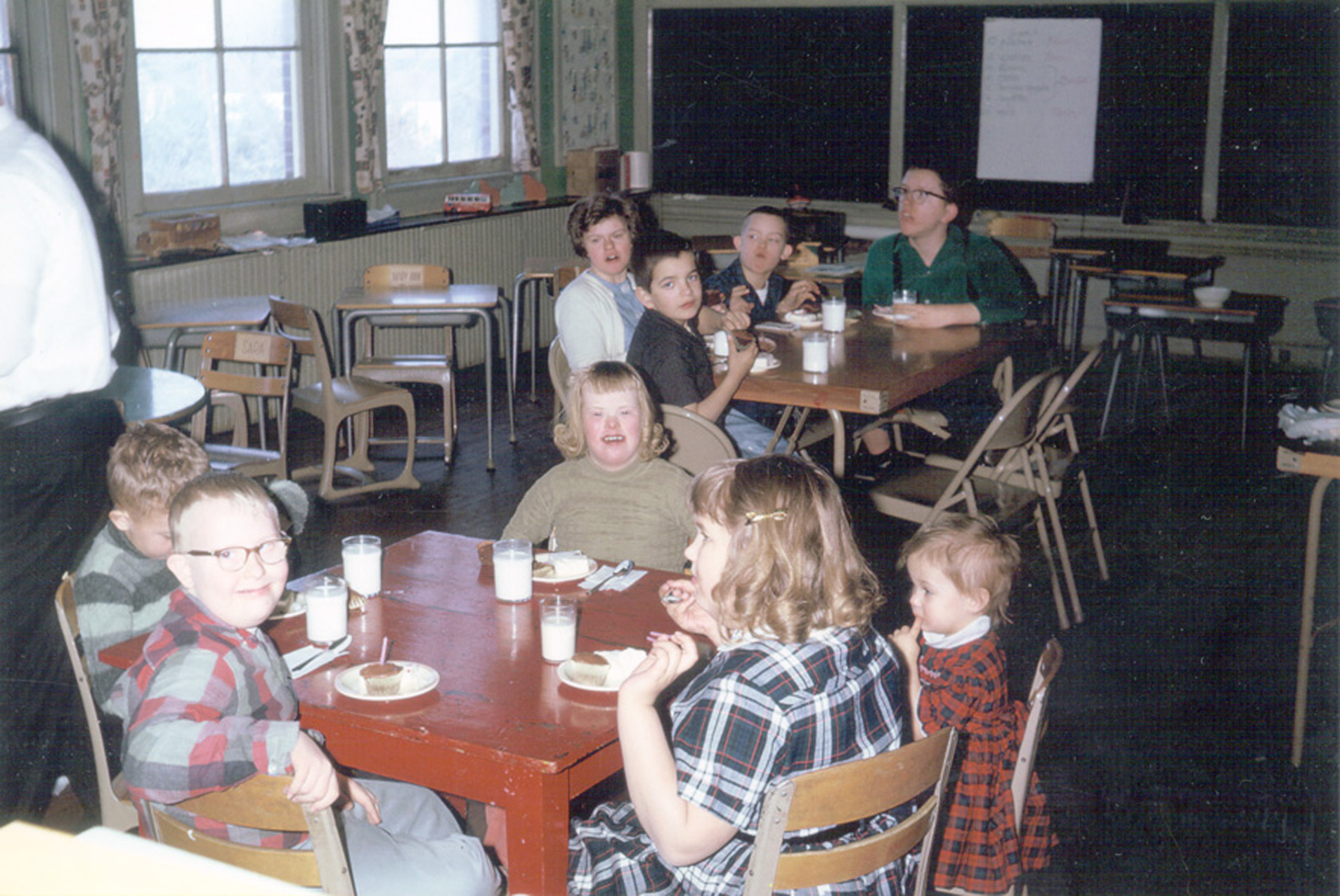 Early classroom in the Stone Belt School on Headley Road. Public school was not always available to children with disabilities.
Stone Belt formed to meet community needs
When Carolyn Abbitt was sent home from school in 1956 because teachers didn't feel they could help her, her parents tried to make the best of it. That's what parents expected in that era. No requirements existed that allowed children with disabilities to receive special education.

A spark of hope ignited when they learned Dr. Roscoe Smith and his wife, along with others, were working to create a school for their son, Bob, and other children with disabilities. The Abbitts joined and became leaders in the cause. Soon, they formed Stone Belt, and nine children had a place to learn and grow. Although the medical community widely encouraged institutionalization, these children and many others were not forced into facilities to live and be educated.

On March 10, 1959, Stone Belt Council was incorporated. Founding families and others from Indiana University and the broader community started a movement that put Stone Belt on the trajectory to where it is today. As Margaret Mead, an American cultural anthropologist, author, and speaker in the 1960s and 1970s, is known to say, "Never doubt that a small group of thoughtful committed citizens can change the world; indeed, it's the only thing that ever has."

The prominent industry in the area in those days was limestone quarrying. The community took great pride in the fact that stones from the area built national landmarks like the Empire State Building and the Pentagon. The regional area that includes Monroe and Lawrence counties was called The Stone Belt due to limestone production, so the founding families aligned the name of their newly founded organization with the foundation of the community.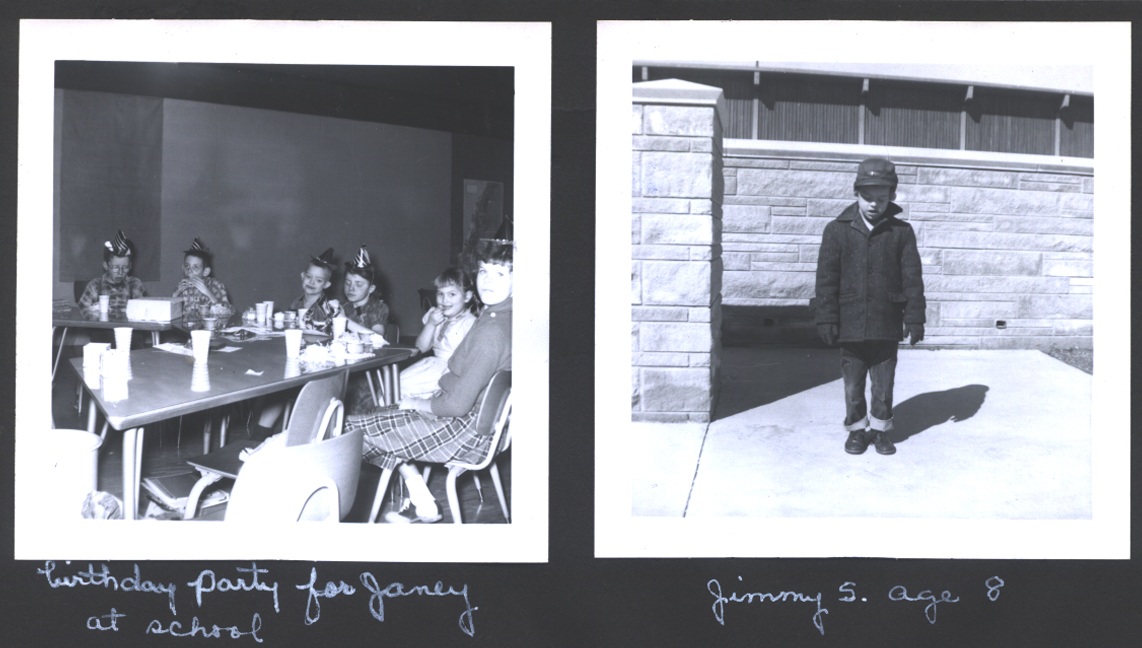 Pictures from the First Baptist Church class, Stone Belt's first location.
People with disabilities draw national attention
In 1946, Ambassador and Mrs. Joseph P. Kennedy established the Kennedy Foundation to seek the prevention of intellectual disabilities and to improve the way society dealt with those with disabilities. Their daughter, Rosemary, born with developmental disabilities, influenced their interest in bringing this issue to light. During his presidency John Kennedy promoted the family's commitment. In the years that followed, Congress passed 116 acts or amendments providing supports for people with developmental disabilities and their families. (SOURCE: www.jfklibrary.org/JFK/JFK-Legacy/JFK-and-Disability.aspx)

The Association for Retarded Citizens*, a national advocacy group, was formed in 1950. In this nation-wide movement, people made the difference in bringing awareness to communities and policymakers about the importance of social justice and equal rights for people with disabilities.

Despite this national spotlight on people with disabilities, abuse and neglect occurred within institutions and was kept hidden. An expose' called "Christmas in Purgatory" by Burton Blatt in 1966 starkly illustrated the problem. Later, Geraldo Rivera went into Willowbrook in New York and revealed the atrocities there. Despite some reforms within institutions, poor treatment, abuse and lack of humane care were ongoing issues. Still waiting lists for these institutions were long so families were unsure where to turn.

That's why community organizations like Stone Belt became so important.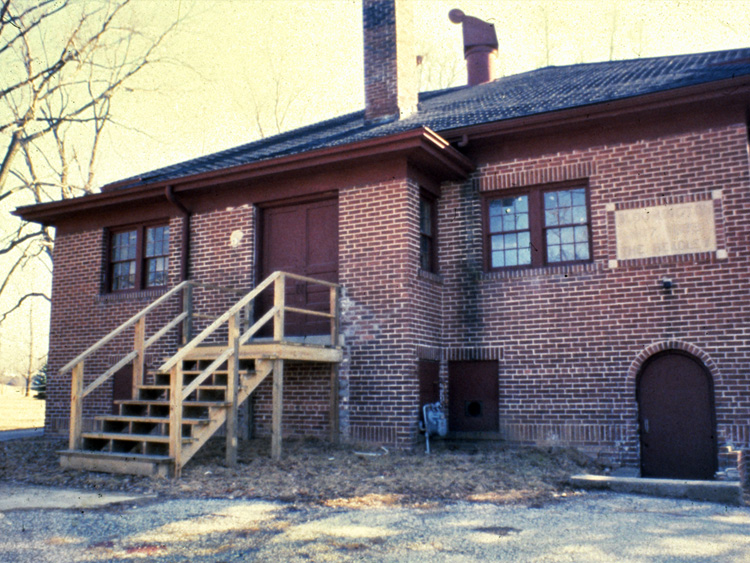 Indiana University made Headley School available to Stone Belt to use as its first consolidated location.
Early days at the Stone Belt School
Stone Belt's first school was in the basement of the First Baptist Church. Families were integrally involved in those days of scarce funding by hosting chili suppers and yard sales to help to cover expenses. As the program grew, classroom space at Indiana University was secured. Services were dispersed according to ages and abilities. In 1959, Stone Belt Council was given permission to use the old Headley School on East Matlock and Headley roads in Bloomington. Multiple classrooms were available in the first centralized location for the young organization. Legend has it that the teachers had to stoke the furnace with coal to heat the building.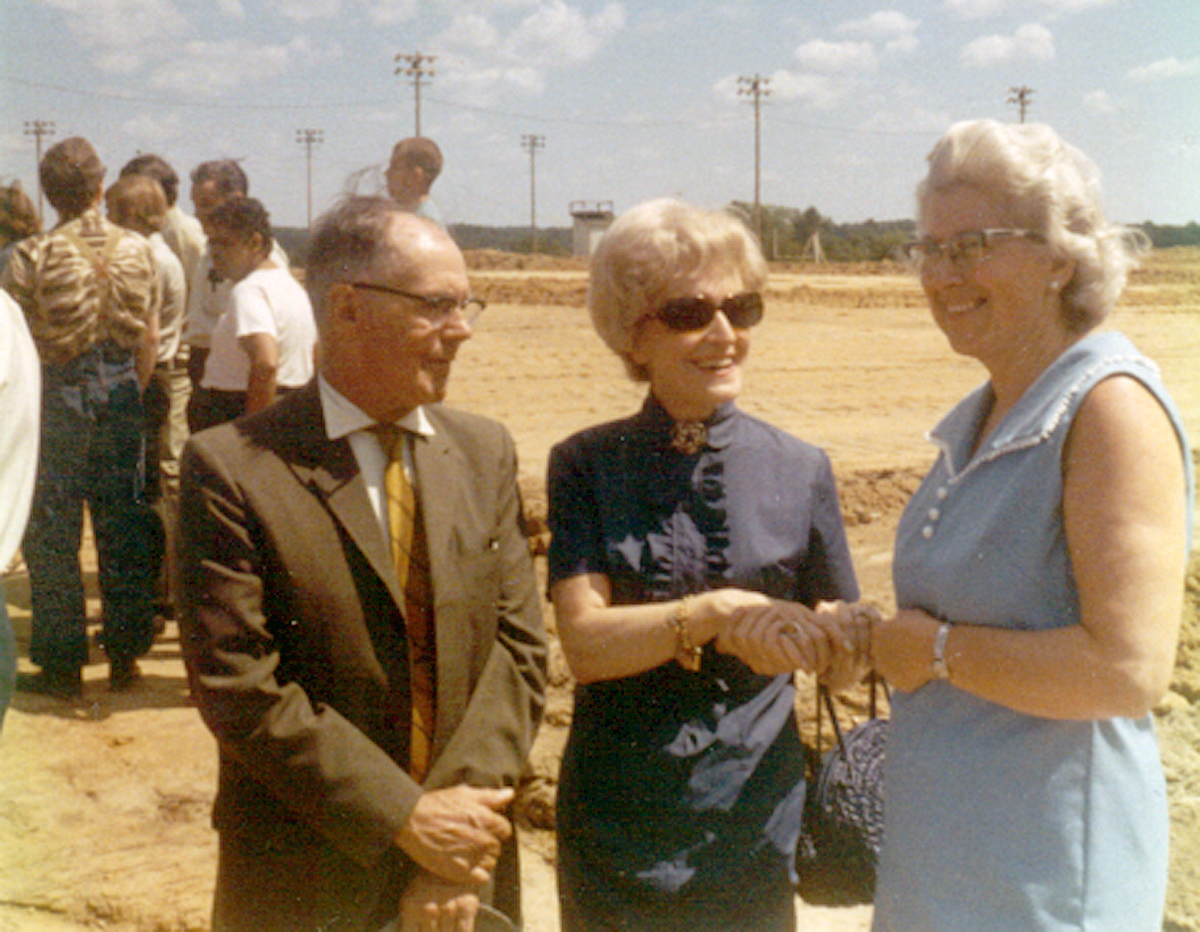 Joan Burton (right), Stone Belt's first director, greets community supporters at the building site of Stone Belt Comprehensive Center.
The first director accelerates pace of growth
In 1965, Stone Belt's first director, Joan Burton, began teaching at Headley. In 1968, she was appointed as the director. She and her husband, Bob, had moved to the area in 1941. She taught for several years at Broadview School and was involved in teaching an "educable" class.

Founding member Marion Young said, "Once Mrs. Burton was on board, things really took off. She was the great mover of the organization. She had the desire, motivation, and connections to make things happen, and she was good at it."

By the time she was appointed director, Mrs. Burton had already started advocating for a comprehensive school and sheltered workshop for adults. With her husband serving as assistant to IU President Herman B Wells, Stone Belt Council was able to secure a 50-year lease on IU property at 10th Street and the 45/46 Bypass.

By 1970, $512,000 was raised from federal, state, and local sources to build and open the Stone Belt Comprehensive Center, the building that remains its headquarters. The facility housed seven school–aged classrooms and a small workshop for adults. In addition, a recycle program was operated out of two semi-trailers in the parking lot. Therapies were also available and a small preschool program was planned.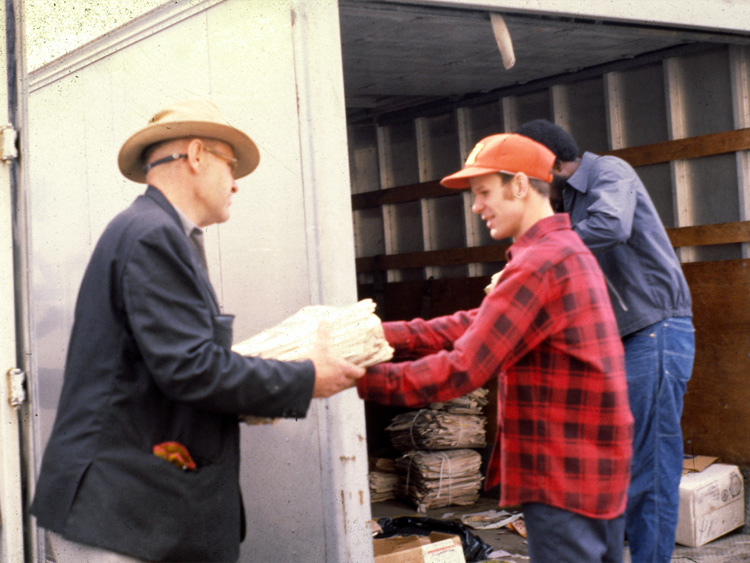 Terry Simpson (center) accepts newspapers at the recycle trailer, one of Stone Belt's first vocational programs for adults.
Rapid growth continues amid societal changes
The 1970s were a time of expansive growth for Stone Belt and for changes in the country for people with disabilities. Among the opportunities were:
1970 – Stone Belt opened one of the state's first group homes, and then, in 1974, opened two more at what is now the Indiana Institute for Disability and Community. At the time, this was convenient, since the property was adjacent to the Stone Belt Center.
1972 – The Lawrence County Arc was formed and started a cooperative relationship with Stone Belt to provide the services in a house on Norton Lane. In that same year, Geraldo Rivera expose' on Willowbrook brought about reforms and began the eventual closures of many state run institutions.
1973 – A Recycle Building was added so community residents had a convenient place to drop off glass, metal, and paper recycling.
1975 – Public Law 94-142 mandated that all children with disabilities receive a free and appropriate education. This created a formal partnership between Monroe County Schools and Stone Belt where some of the community's children would continue to be educated.
1978 – The Adult Building was added to expand the size of the workshop and the Adult Day Activities program. Otis Elevator was the largest subcontractor for the work program at the time.
Late 1970s – A residence for children was added on Tapp Road.
1981 – The Lawrence County Achievement Center, Larc, opened in Bedford to serve residents in that county. Stone Belt continued the relationship with the local ARC to provide adult services in the new facility.
Early 1980s – Preschool programs were expanded, the Special Olympics program was fully developed and the Willow Manor semi-independent apartment program was started.
From the late 1950s to the early 1980s Stone Belt embarked on a mission to create a school and community center for people with disabilities. It was successful in obtaining sustainable funding and in becoming a United Way agency. Its reputation was positive and a sense of pride was grown in the local community for the opportunities the organization offered. Many fewer people were being sent to public institutions because local services were available. Since services were offered "in house," the programs were considered safe places for those that may be vulnerable in the outside world. As we will see in Chapter 3, that mind-set would change over the next few decades.
* Because of the stigmatizing effects of the words "retarded" and "mental retardation," that language has been eliminated from our vocabulary.
Eisenhower is president.
Life expectancy is 69.6 years.
Gas is 25¢ per gallon.
Panty hose and Barbie dolls make their debuts.
"Father Knows Best" is the most popular TV show.

John F. Kennedy becomes President of the United States.
John Glenn orbits the Earth, becoming the first American to do so.
President Kennedy is assassinated in Dallas; Lyndon Johnson becomes president. The man accused of assassinating President Kennedy, Lee Harvey Oswald, is shot and killed by Dallas nightclub owner Jack Ruby as he is led to jail. The assassination marks the first 24-hour coverage of a major news event by the major networks.
Lyndon Johnson is president.
Our first troops are sent to Vietnam.
Medicaid and Medicare are established.
"The Sound of Music" is Best Picture.
Buck Owens has "A Tiger by the Tail."

The first Super Bowl is played, with the Green Bay Packers defeating the Kansas City Chiefs 35–10.
The Beatles break up.
"Patton" is Best Picture.
"The Mary Tyler Moore Show" debuts.
Al Unser wins the Indianapolis 500.
Indianapolis and Marion County start Unigov.
David Letterman starts on an Indy TV station.
The 26th Amendment is ratified, allowing 18-year-olds to vote.
Hank Aaron of the Atlanta Braves breaks Babe Ruth's home run record by hitting his 715th career home run.
The Reagan era begins.
Hostages in Iran are released.
AIDS is first identified.
Isaiah Thomas is drafted to the Detroit Pistons.
MTV debuts on cable channels across the nation.
Prince Charles and Diana Spencer are married.
"Chariots of Fire" is Best Picture.