The Transformation of Stone Belt:
'80s and '90s – The Move to Community Inclusion
Social activism of the 1960s and 1970s with subsequent changes in disability laws, such as The Rehabilitation Act of 1973 and The Education for All Children Act of 1974, created changes in services for people with disabilities. Children at the Stone Belt School began to move into regular schools by the early 1980s, a move that was welcomed by some and resisted by others. Nationally recognized advocates — Paul Wehman, John O'Brien, Lou Brown and others — were demonstrating new models of community inclusion like supported employment and integrative competitive employment for people with significant disabilities. The 1980s and 1990s were truly exciting times as the paradigms changed and community inclusion became the predominate model of supports. As times changed, Stone Belt evolved from a "center" for all services to a "spring board" for community living.
New director, new direction
When Joan Burton retired in 1985, the Stone Belt board looked to the future to find a leader who could take the organization in the direction of community-based services. They found Elbert Johns, a North Carolinian — with the accent to prove it — who had a great vision and the drive to achieve it. Elbert's first job in the field was in a Georgia institution. He had more recently run a chapter of The Arc in Albemarle, North Carolina.

Coincidentally, the last public school classroom was moved from Stone Belt the day before Elbert started, signaling the end of an era. Within a year, the agency started a supported employment program and moved the group homes into neighborhood settings. Within three years, plans were made to open new group homes and day habilitation programs, which began to be more community-based, providing opportunities for volunteerism and recreation.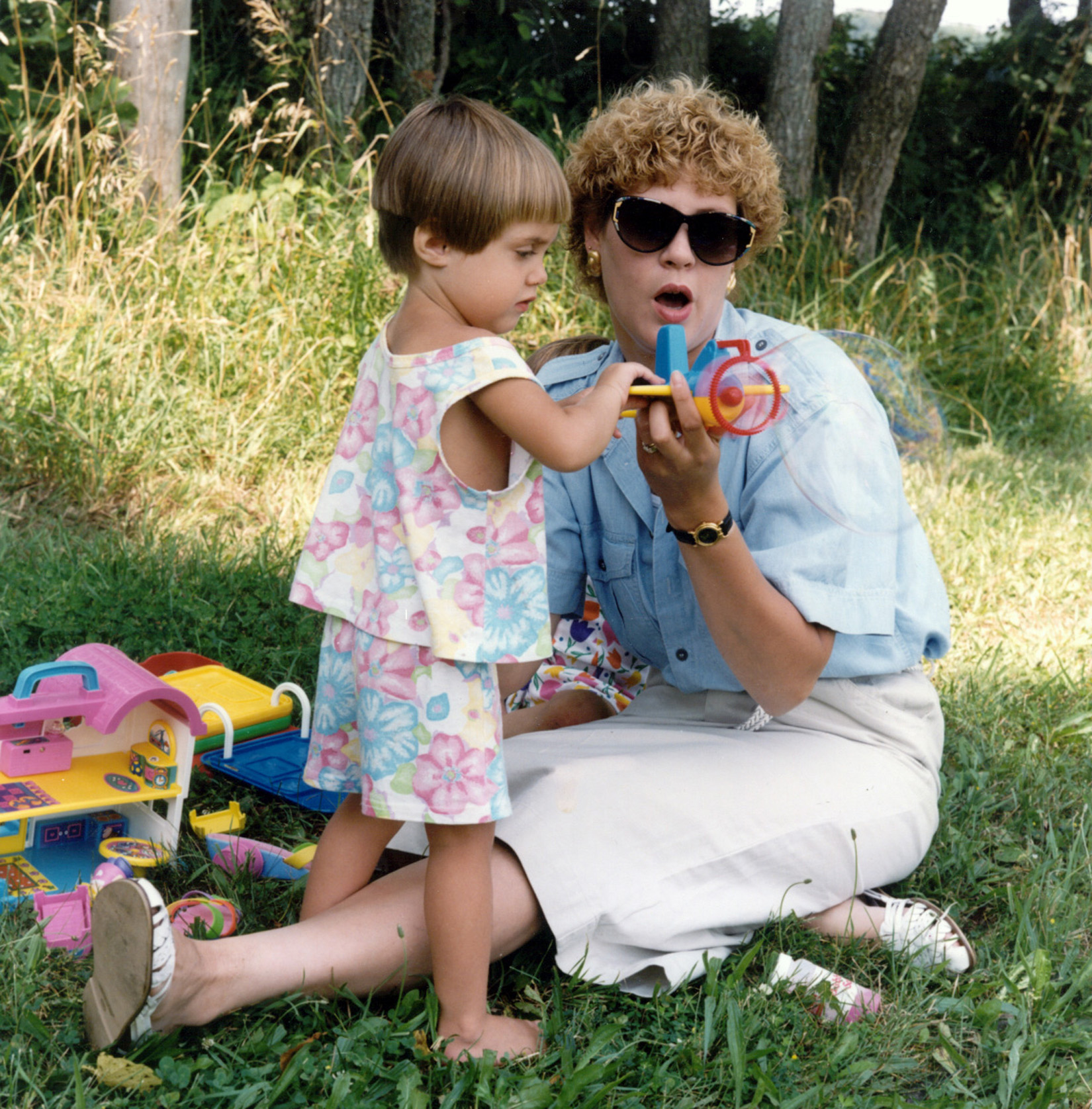 First Steps program focused on individualized home-based services.
Though public schools assumed the educational responsibilities for preschool children over age three, Stone Belt continued to serve infant and toddlers. Over time, these programs transformed from classroom-based programs to community-based integrated classrooms, and then to completely home-based services. By the 1990s, the state started funding First Steps, a program with a home-based model that Stone Belt adopted. For a time, Stone Belt also ran another early intervention program — called Healthy Families — that provided services including child development, access to health care, and parent education aimed at preventing abuse and neglect, and childhood problems. In the interest of concentrating efforts on the adult population, in 2006, Stone Belt transitioned all preschool programs to other providers with early childhood services as their core mission.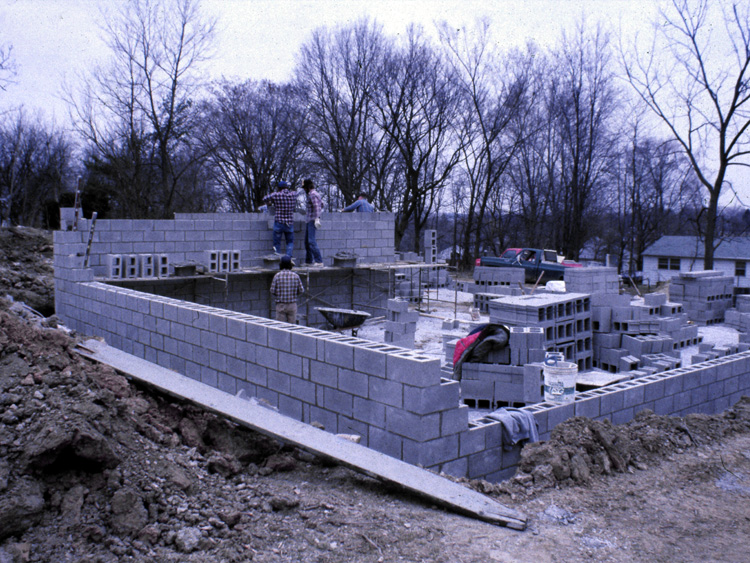 Constructing one of Stone Belt's purpose-built group homes, circa 1989.
Enormous growth in residential programs
In 1987, Stone Belt built and opened three new group homes. Then in 1992-93, six more were built, including three in Bedford. These expanded residential options enabled many people living in institutions to move into the community, but also gave local families a place for their loved ones to make that first step toward independence. This was perhaps the most expansive growth phase Stone Belt had ever undertaken. Stone Belt took a significant role in the eventual closing of state-operated institutions by providing community-based options to those residents. In 1997, clients at Travis House — who had the greatest capacity to live more independently — were among the first clients to experience Supported Living. This new model of supports enabled the clients to rent and move into homes with fewer roommates and more personal control. These moves were funded by the Medicaid Waiver, a new funding source that allowed people to waive their right to traditional Medicaid services, such as institutions, and opt for community-based supports. The Waiver quickly became the primary funding source for disabilities services.
Joan Travis was the director of residential
services from the early 1980s until she
retired in 2000. During her tenure, the
residential program grew from a small
program with 3 cottages to an expansive
program that provided 12 group homes for
seventy four people and a well-developed
semi-independent living program for more
than a dozen more. Her dedication and
determination gave many people with
disabilities a place to call home and a
rewarding and meaningful career to many
employees. Stone Belt was significantly
and positively impacted by Joan's energetic
efforts at Stone Belt.
Expanded options for day services
At the same time the residential programs were expanding so were the various day programs. Stone Belt's Community Employment program — started in 1985 — grew quickly and successfully. Using best practices of the time, dozens of individuals with significant disabilities now contributed their skills and talents to local businesses. Stone Belt developed a reputation for the high quality of its employment programs and was called upon by other agencies who wanted to start their programs. The Habilitation Program — known today as Lifelong Learning — began supporting individuals to participate fully in the community through volunteering, shopping, and individualized leisure pursuits. The workshop program started a new relationship with Cook, Incorporated, to assemble medical device products. This successful partnership continues today. The recycle program was transitioned to the City of Bloomington, which had more resources to modernize the operation; nevertheless, there were more options than ever for meaningful employment and learning. In 1989, Stone Belt worked in partnership with The Arc of Owen County to open Sweet Owen Industries. Services to Owen County clients grew to include a Manufacturing Program, Employment Services, Adult Habilitation and a small Supported Living Program.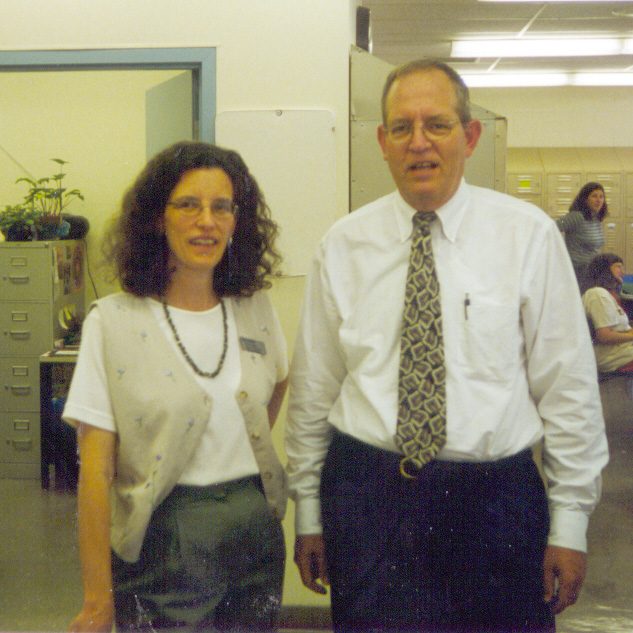 Leslie Green and Elbert Johns share a transition moment in 2000.
2000 – New millennium, new director
When Elbert Johns took a leave of absence in 2000 to pursue an internet business partnership known as The Arc Link, Leslie Green was tapped as the interim director. She had been with the organization since 1979, starting as a recreation therapist and advancing within the agency to the director of adult services. She and her husband came to Bloomington for him to pursue a graduate degree, and like many others in their situation, never left the area. In 2001, when Elbert decided to continue with The Arc Link, Leslie was named as the CEO for Stone Belt.

Early in Leslie's tenure, the operations in Columbus — which began in 1998 — grew to include Employment, Lifelong Learning, and Supported Living services. Stone Belt also began serving some of the last clients to leave Muscatatuck Developmental Center in the North Vernon area. Those services were transitioned to Columbus after some time. The Supported Living Program in Bloomington and Bedford also continued to grow as more people received Waivers. In 2009, when The Arc of Owen County board determined that they would like to become a service provider in the facility they owned, Stone Belt moved its operation and many of the clients who wanted to continue with Stone Belt back to the 10th Street facility in Monroe County.

Milestones Clinic, on South Adams Street, opened in 2004.
Professional Services becomes Milestones Clinical and Health Resources
Throughout the development of the residential program, the need for behavior supports, nursing, and social work was identified. Stone Belt was successful in hiring skilled professionals in these fields and helping them to adapt their specialized training to support individuals with developmental disabilities. A contracted psychiatrist was also secured when clients could not find appropriate mental health services. While these professional services were mostly offered to the Stone Belt residential clients, the need for this support was identified throughout the community. Therefore, in 2000, Stone Belt began offering these services to other clients outside of the residential program. When a full-time psychiatrist was hired in 2004, Milestones Clinical and Health Resources was born. Under the direction of Maureen Gahan, former director of Stone Belt's residential programs, Milestones quickly grew to provide a variety of clinical services to children, adolescents, and adults with disabilities. Housed in a medical office facility on the near-west side of Bloomington, Milestones quickly become a vital community resource to many clients and families in south-central Indiana.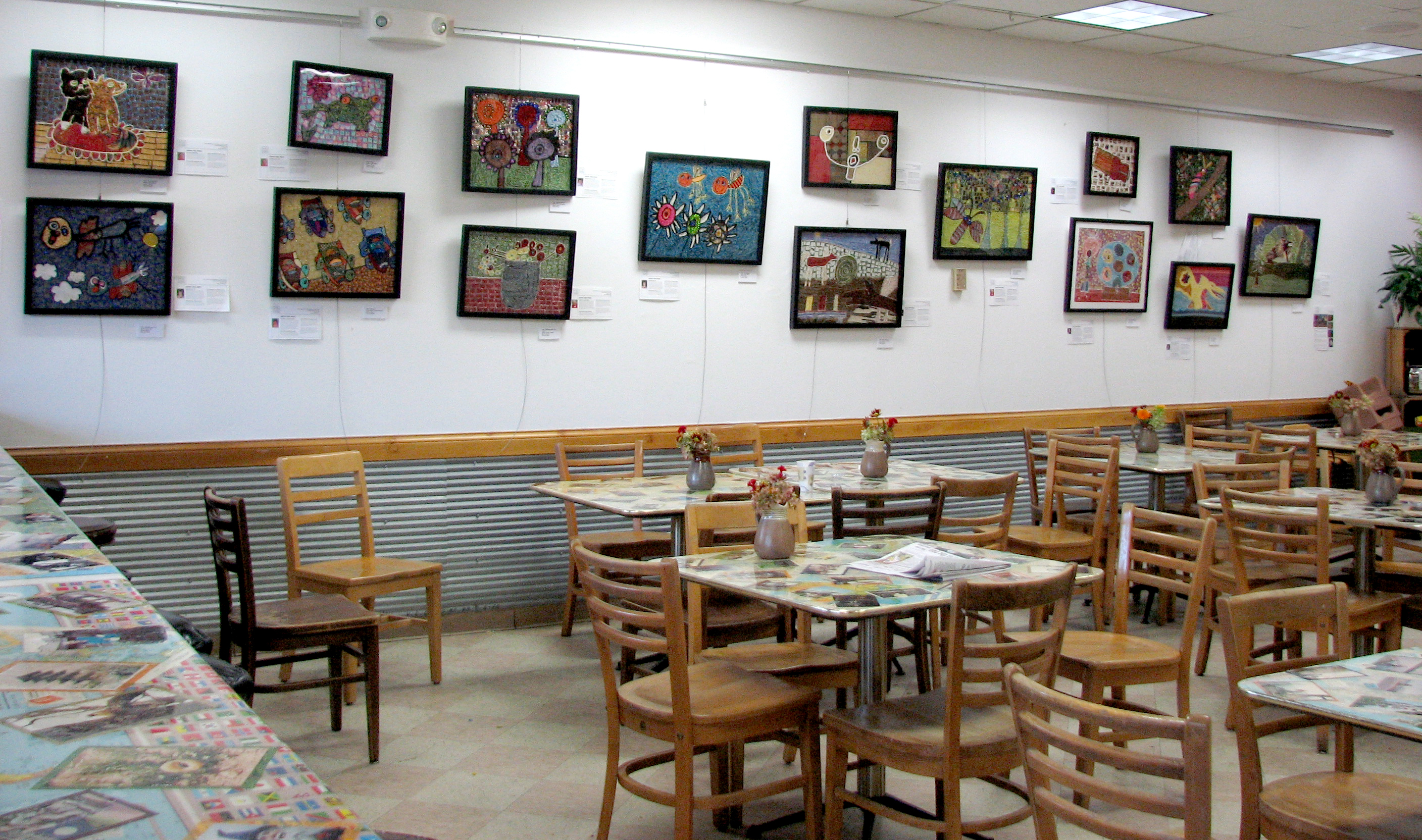 An art show at Bloomington Bagel helped launch the Stone Belt Art Studio program.
The Arts provide creative outlet and community engagement
The idea for marketing client art work was born in 2006 when a small exhibit of client art at Bloomington Bagel created a buzz in the community. After that, exhibits in local businesses and galleries showcased the unique artworks. Over time hundreds of client-created art pieces have been purchased by the public to decorate homes and offices throughout southern Indiana and beyond. In addition to in-house art instructor Karen Holtzclaw, Stone Belt also worked with collaborative community artist, Joe LaMantia. Because of this, there are commissioned installations of Stone Belt art in public spaces throughout the community, the most impressive being the Animal Island sculpture on the B-Line Trail. Art studios were added in Bedford and Columbus with all three studios supplying works that are framed, sold, and featured in the annual Stone Belt Art Calendar. Of all things that Stone Belt has done in the community, displaying and selling art is perhaps the most effective at captivating the public's attention. Community members have come to easily recognize the playful, inventive, and whimsical qualities that characterize creations by the Stone Belt artists.
What could the founders have imagined?
Looking back to the 1950s to those families and community members that founded Stone Belt, one wonders if they could have imagined what it would become today. Would they be astounded to know that it has served up to 2,400 people per year and that it currently has 500 employees? Could they have anticipated that hundreds of people with developmental disabilities would have taken their place as valuable employees in local businesses and that those in the manufacturing program would produce over 5 million medical device and supplies annually? Could they possibly have imagined that residential services would be provided to more than 160 people throughout south-central Indiana, supported by skilled clinicians that help them adjust and cope with physical and emotional challenges? Did they see people with disabilities independently using transit systems, providing volunteer hours that feed hungry people, or learning how to use technology? It's hard to know how they might feel about the incredible developments over the years, but they deserve to feel proud of what they started. They and the thousands that followed – advocates, clients, families, board members, and community supporters -- have changed the world remarkably.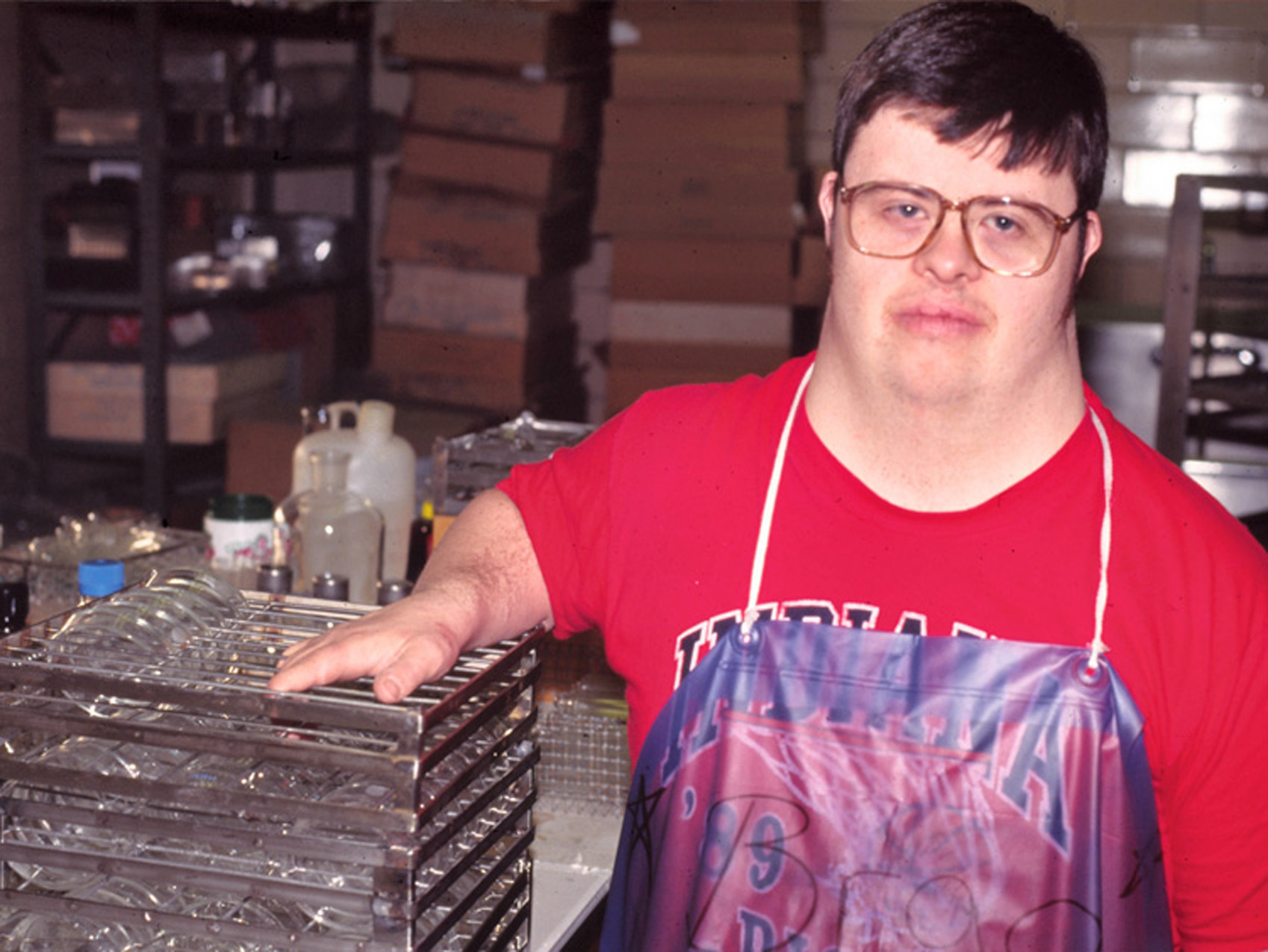 Brad Gifford, pictured here at IU Biology Department, was one of the first clients to excel in Community Employment, circa 1990.
Preview of what is to come in the 12 Chapters Project
The next 7 chapters will illustrate the principles and values with which Stone Belt accomplishes its work and the way those principles impact the people Stone Belt supports. Leave us a comment of what you have thought so far about the 12 Chapters Project and what you would like to learn more about in the coming chapters.
Reagan was president – again.
The Kansas City Royals won the World Series.
We tuned in weekly to see the love/hate relationship of Cybil Shepherd and Bruce Willis in Moonlighting.
Out of Africa best picture, but Whoopi Goldberg and Oprah Winfrey amazed us with their acting in "The Color Purple."
Now we "want our MTV" as "Money for Nothing" became a big hit across the nation.

The first nicotine patch is introduced to help stop smoking.
DNA fingerprinting is Invented.
Cost of a gallon of gasoline is $1.05.
Ross Perot announces intent to run as an independent in the upcoming presidential race against Bill Clinton and George Bush.
Hurricane Andrew hits South Florida.

We survived Y2K and elected George Bush in the infamous election of 2000.
The Olympics were held in Syndey, Austrailia, and Marion Jones claimed 5 gold medals in track and field competition.
Alanis Morrisette released her landmark album, "Jagged Little Pill."

Google purchases YouTube for US $1.65 billion in stock.
Barry Bonds of the San Francisco Giants breaks the record held by Babe Ruth and hits his 715th home run on on May 28th to pass Babe Ruth on the all-time greatest list.
Pluto is downgraded from a planet to a dwarf planet by The International Astronomical Union (IAU).
"American Idol" is the most popular TV show in its fifth season. Taylor Hicks is the season winner.